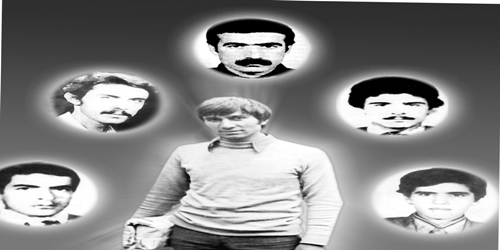 Li ezmanê welatê rojê, ewrên reş û tarî xwe li hevdu komkiribû. Ji nava tarîtiya van ewran, biruskên ronahiyê xwe li himêza erdê didan û dibun tîrêjên roja ku kes nikare tarî bike. Li derdorê rojê dibun çemberek ji sitêrkên ku diçirîsîn. Di dilê mirovatiyê de hêvî didan şînkirin.
Bi rojê re rêhevalbûn û roj jî bi wan re rêhevale.
Belê Tevgera Azadiya gelê Kurd ya ku bi rêbertiya Reberê gelê Kurd Abdulah Ocelan hatiye bi sazkirin, bi riheke rêhevaltî û bi felsefeyeke enternasyonalîst mezin bûye. Rêbertî bi xwe jî di hin kesayetên ku nunertiya vê xetê kirine weha dibêje:
Di nava tevgera  me de gelek hevalên Tirk cîh girtine. Ji roja damezrandinê heta roja îro di nav refên Tekoşîna Azadiyê de hevalên me yên Tirk wek Kemal Pîr, Hakî Karer. Ew rêheval Tirk bûn. Lê belê ji gelek hevalan zêdetir êşa gelê Kurd fêmdikirin û nêzî me bûn. Di nav hevalên jin de jî cardin bi sedan hevalên Tirk hebûn. Kemal Pîr û Hakî Karer du zarokên Derya Reş bûn ku hînê xira nebûbûn, bi eşq û şewq bi şêwazê hevaltiya min ve hatibûn girêdan. Ji bo ez nekevim zehmetiyeke piçûk, beriya me hemûyan berê xwe dabûn Kurdistana ku ne ziman û ne jî toreyên wê zanîbûn.
Jiyan,bi qasî pênasekirina wê, bi qasî vê pênaseyê bûyîna xwedî helwesta tekoşînê jî di rêya wê de dibe durustî û rastî. Di jiyanekê de dema ku derew û xapandin hebe, êdî jiyan jî ji cewherê xwe derdikeve û mirov jî erzan dibe. Êdî li wir têkîliyên mirovatî, yên hevaltî, cîrantî û dostanî jî wetaya xwe wenda dikin. Heta cih ji têgehên bi vî rengî re namîne. Lê di têkîliyên mirovan de spartina hev, durustbûn û bawerî, parvekirin û alîkarî nebe, wê xweşikbûna jiyanê ma hebe! Lewra civakekî ku rêgezên xwe yên exlaqî û polîtîk nebe, ew civak mehkumê helandin û hilweşandinê ye. Ew civak êdî belav dibe û nirxên ku wê li gel hev bihêle, namîne.
Belê Rêbertîcivakeke nû ya ji hevalên rast u durist ava dikir, civakeke ku mirovên wê li ser hîmên demokratîk û pîvanên azadkirinê dihat gel hevdu. û her ku diçu ev dibu weke nemuneyeke ji bo civaka gelê Kurd û zarokên wê yê şoreşger. Rêbertîbi bîranîna hevalên xweyî ku ji netewên cudabun weha dibêje:
Rêhevalên min yên herî nêzîk Kemal Pîr û Hakî Karer bûn.  Heta niha bi sedan hene. Di asta netewe û gel de em nikarin bibin dijmin. Ez dijberî pergala olîgarşî me. Li dijberî rêgezên dij- demokratîk im. Ez kesayetekî ku li ser rastiya komarê disekinim, difikirim, girîngî didim demokratîkbûna wê. Pêwîstiyên Kurda yên demokratîk wek xala yekemîn ez bi dest digrim. Ev yek ji bo çarereseriya pirsgirêkên Tirkiyê jî rêgeza bingehîn e. Ger ku bixwazin me binîn lîstoka, me erzan bi karbînin dawiya vê yekê nîne. Wê demê wê parastina rewa bikeve rojevê.
Şehîdên Tevgera Azadiya Gelê Kurd, di kesayetên xwe de rastiya PKK'ê dane nasîn. PKK di kesayeta wan de bû  xwedî nasname, jiber ku ew rêhevalên RêbertîAbdulah Ocelan yên herî nêzîk bûn. Lewre Rêbertîji bo hevalê xwe Hakî Karer dibêje "ew giyana mi yê veşartî ye." Di dema ku hîn tiştek bi dest neketibû, derfetekî biçûk jî di holê de nebûye, hevalên Rêbertiyê mîna Hakî Karer, bi germahiyekî mezin ramanên Rêbertîhembêz kirin. Ne tenê şopdarbûn di heman demê de afîner û sazimankar bûn. Lewre şehadetên wan bi qasî jiyana wan bû sedema gavên dîrokî di jiyana tevgera azadiya gelê Kurd de.
Rêbertîdi nêzîkatiya xwe ji şehîdan re, bi bersiv dayîna çalakiyên avakirina serkeftina ji bo jiyaneke bi rumet esas digre, bi van gotinên ku emê rave bikin, vê feraseta Rêbertîdatîne holê ev gotinana wehane:
Bi salane di derheqê şehadetan de em dixwazin wateyekî rast derxin holê. Şehîd nirxên herî mezinin û pêwîste neyên binpêkirin. Wesiyata wan berî her tiştî pêwîste were bi dest girtin. Min xwest ez li biranînên wan xwedî derkevim û bi wan ve girêdayîbim. Min erka xwe ya girêdana bi biranîna rêheval  Haki Karer're bi avakirina partîbûnê pêk anî. Ya bi heval Mazlûm'an re, Hayrî'yan re,Kemal'an re ev partî dana jiyankirin û bi derbaskirina welat pêk anî. Min wek şerê gelerî yê mezin da amadekirin.  Girêdana xwe bi Egîd'an re bi pêşxistina gerîla min pêk anî. Ev yek bi kok kir. Waye di van demên dîrokî de erkên ku min ji xwe re dane  diyarkirin û pêk anîne evin. Ma gelo hûn dibêjin qey pêkanîna van hêsanin? Na! karê cîhanê yê herî zor bû lê belê pêk hat.
Ûtopiya pêşerojekî xweşik û azad, mîna ku di nava kulma destên xwe de digirtin, ewqa bawermend bûn. Ya rastî wan bi hêza xwe û hêza Rêberên xwe bawer dikirin. Baweriya wan bê bingeh nebû, jiber bi qasî xwe nasdikirin, rastiya serdem û pergala şaristanî jî ewqa analîz kiribûn. Xwe kirin pira di navbera dîroka derbasbûyî û pêşerojê. Bi helwestên xwe roja tê de zindî kirin. Lewra gotina Rêbertîku dibêje: "Tu çiqa dîrok û kevneşopiyê rast bizanibî, roja îro û pêşeroj jî dema tu vê dîrokê di rihê xwe de biçînî, bi qasî tu li ser zêde bikî, dikarî weguherînî  jî. Di kesayeta wan milîtanan de nimûneyek li ber çave û pratîka vê teoriyê yî."
Belê, buyîna hevalên şehîda, û girêdana rast bi wan re bi zanebuyîna partîbûnê datîne holê rêberê gelê Kurd, van pîvana jî weha datîne ber çavê her milîtaneke Tevgera Azadiyê û dibêje:
Ma we jî di kesayeta xwe de bersiva şehîdan bi vî awahî da? Ji bo jiyana wan bûna bersiv, di cihê ku hiştin de berdewamkirin bi we re çiqas heye? Ev yek encax bi nirxên partîbûnê yên herî bilind ve bi girêdanê ve pêk tê. Ger hûn ji kevneperestiyên xwe yên berê dawerînin, hûnê bikaribin girêdana bi biranînê şehîdan re tevbigerin. Hûnê bikaribin bibêjin me biranînê wan pêk anî. Eve di heman demê de bi armanca wan yê herî mezin, hênceta wan ya jiyanê û bi hemû taybetmendiyê wan ve girêdan e. Mirinekî ne bi deyndarî û ne li ser bingehên şaşiyan bi rast fêmkirina partîbûnê pêk tê. Di fêmkirina terzê şerê partîbûnê re derbas dibe. Derveyî vê yekê çi rê nine.
Hin pêvajoyên dîrokî hene ku ji bo tevayî mirovatî wate û nirxên hevpar îfade dike. Yên ku mohra xwe li van pêvajoyan dixîne kesayetên awerte ne û dibin xwedî cihek ku di xêva mirovatiyê de nayêne jibîrkirin. Bi bîranîna wan giyana mirov ji beden derdikeve û ji şert û mercên dema ku tê de jiyan dike rizgar dibe. Wan di giyanê de hevdîtin pêk anîn. Her çiqa ku di dem û cihên cûda de têkoşiyabin û hin ji wan qet hev nedîtibin jî. Jixwe di PKK'ê û felsefeya Rêbertîde îsbat bûye ku mirov di raman de, di bîr û bawerî de, di  giyan de, bi hev re dibe rêhevalên rast û wiha jî xweşik dibe.
Heyva gulanê di tevgera azadiya gelê Kurd de heyveke pîroz e, jiber ku di vê heyvê de gelek qehramanên ku canê xwe kirine gorî ji bo azadiya gelê xwe ji lewma RêbertîAbdulah Ocelan bi çend hevokan weha dibêje:
Em 18 gulanê bi navê roja şehîdan bibîr tînin. Di dîroka partiya me de, şehîdê me yekemîn Hakî Karer û di pey de Çaran, di pey wan de jî bi sedan ên ku ev berxwedana bi  qeheremanî lixwe anîn, hiştiye ev roj  weke rojeke bi wate cihê xwe bigre.
Fêhmkirina şehîd, mafê şehîd dayîn, li gor wesiyeta şehîd jiyîn, bi qasî ji bo şoreşgerekê erk û berpirsiyariya di serî de tê; ev hakim kirin, şerê vê yê tuj dayîn pêwîstiya girêdana ku jê nayê revandinê ye.
Rêbertî cardin jibo rastiya 18 gulanê bi hevokên zelal wiha berdewam dike û dibêje:
Di partîbûnê de şehîd û şehîdê yekemîn fêhm kirin, ên pêwîst pêkanîn dibe roleke mezin a dîrokî û jibo vê keda me ya partîbûnê dikare were gotin ku weke wate dayina sersalekê ye. Di rûpelê dîroka neteweyî de wek kevirê kîlometre cihê xwe girtiye. Di biranîna şehîd de israr, pêwîstiya kirinê, bi qasî ku rastiya şehîd bi êdin re jî dide girêdan, jibo ê jiyan jî dike dibe xeta jiyanê, ev jî tê wata xeta azadiyê ye. Heta derbasî xeta azadiyê jî dibe. Ên ku nizanin bi şehîdan re wisa werin girêdan, bi gengazî weke bêrêzin, ti carî nabin kesayetên rêzdar. Kesên nikarin bersiva şehîd bidin li biranînên wan xwedî derkevin, wan bingeh bigrin û jiyana xwe sererast nekin, ew nikarin bibin mîlîtanê partiya me ên bi tendurustî û rast. Şehîdên PKK dibe ku şehîdên ji bo mirovahiyê ê herî bingeh werin fikrandinê ne. Ew vê heq dikin. 18 gulana 1982 de, di girtîgeha Diyarbakirê de çar hevalên xwe şewitandin Ferhad Kûrtay, Eşref Anyik, Mehmûd Zengîn, Necmî Oner bi çalakiyeke pir bi zane û pêlankiri xwe digihînin merteba şehîdbûnê.
Ruxmî hemû azar û keserên wan, di henaseya xwe ya dawiyê de di çavên wan de ew nêrîna biwate ku dihate xwendin, çi bangawazî ji mirovatiyê re dikir? Ew bedenên ciwan dema ku ji bo welatên xwe dibûn mertal li hemberî guleyên xedar, bê ku êşa bedena xwe hîsbikin, aramî û hêviya kû di rûyê wan de, gelo li dû xwe ve vê giyanê rastiya ku hembêz dikir, çawa bû?
Gelo rastî tenê ya bi çavan tê dîtin, û tê jiyan kirin e?  Ger wiha be çima şoreşgerên Tevgera Azadiya gelê Kurd di qebûlkirina wan de zehmetî kişandin, çima di nava tevger û lêgerînê de bûn, di dilê wan de kîjan rastî lêdida, ew dilên nazik di bin giraniya barekî çawa de dijiyan? Çima nikarîbûn rihet bijîn, di stranên wan êşa ku dipeyivî, çibû û zimanê kîjan demê bû?
Têgihiştina şehîdan, û layîqbuna navê wan û jiyana wan, weke erkeke serekeye di militantiya Tevgera Azadiya gelê Kurd de. Pîvanên vê erkê Rêbertî weha eşkere dike:
Ez di anîna ziman de zorahî dibînim û heta ewqasî şehîdên hêja hene ku em navên geleka nizanin û dibe ku em navê hindeka nizanibin jî… Ya herî girîng, her yek ji wan hêjaye ku li ser wan pirtûk werin nivîsandin. Lê belê kêm maye hindek ji wan di hafizayan de winda bibin û herîn. Divê ji vê re çareyek were dîtin. Di serê vê çarê de jî, xeta partiyê û tekoşîna ku bibin nakeve û bi qasî vê,  kesayetê partiyê ya sexlem û ewle di kesayeta xwe de pêkanîne. Di hizûra şehîdan de derveyî vê ti meyl û nêzîkatiyeke din nabe. Divê bi gengazî hûn şehîdan rast fêhm bikin. Di temaşekirina me ya bîlançoya şehîdên PKK ê de, hela berbiçavkirina wan kesayetên wan ê dagirtî re, ne mimkune ku em bi kesayetên erzan re lihev bikin.  Pirsgirêka me ya herî girîng; layiqbûna şehîdên me ewqas bi bandor û naverok û ev layiqbûn xistina bin ewlehiyê ye. Heta ez di pêkanîna çalakiya xwe de, di zanebûna armanca xwe a yekemîn de me ku wesiyeta şehîdan dixim bin ewlehiyê.
Rêbertî di nêzîkatiya ku divê ji şehîdan re esas were girtin weha berdewam dike:
Ji bo biranîna şehîdan ne mirin, jiyîn, her weha tekoşîn û mûtlaqa serkeftin ya herî rast e. Sedema tevgera me ya yekemîn; ji bo wata şehîd, jibo wesiyeta wan vala neçe, berdewamiya rêxistinê, xeta wê ya şer, partiya bibin nakeve avakirine. Jiber çi? Jiber biranîna wan dext dike û emrê mitleqa kirinê dide. Ev bi ya min be ev BÎR di rêza yekem de ye. Di pêşiya hemû bîr û baweriyan de ye. Di rêvebirina tevgerê de ez dibêjim hêman. Jiber kesên hêmanên vê tevgerî nizanibin, nikarin bi rêzdarî nirxên wan jî biparêzin û li wan xwedî jî derkevin. Jiber şehîd nirxên bingehîn in. Gelo ev hêza we heye? Jibo şehîd jiyîn, ji bo şehîd xebat, ji bo şehîd serkeftin; ji bo vana hêza we heye?
Mirovên ku xwedî lêgera azadiyê ne, ticar ji bo xwe û civakên xwe jiyaneke erzan qebul nakin û nikarin di xefka desthilatdara de jî bijîn, ji bo ku jiyaneke bi rumet were jiyan kirin, mirineke bi serbilindî jî ji xwe re layîq dibînin, ya ku di milîtanên pkk de jî îsbat buye ev rastiya hanê ye. Û ya ku PKK mezin dike û dike tevgera bi hezaran, ev feraseta hanê ye. Di PKKê de şehadet gelek bi nirx e. Rêbertî ji bo her şehadeteke watedayîn û îtîbara wê naskirin weke rêgezeke rêhevaltiya ku li hevalên xwe xwedî derdikeve daniye holê, em vê nêzîkatiya Rêbertî bi van hevokên ku sazkiriye hîn baştir tê digehêjin, wiha dibêje rêberê gelê Kurd:
Ji bo biranîna Kemal, Xeyrî yan bersiva me da, cardin ev hevalên me bibîranîn bersiva Ferhad Kûrtayan pêşîgirtina qutbûna tevgera me ji welat, tevger bi Kurdîstanê re yek kirin bû. Xebatên derveyî welat di vê derbarê de bi awayekî awerte me bi dest girt. Me kûr kir. Cardin di heman salê de, di payiza 1982 de me partî derbasî wir kir, di gotineke xwe de min ev gotibû; "Biranîna van şehîda pira di navbera mirin û jiyanê de ye. Em di ser re derbas dibin, berbi jiyanê ve derin". Di encam de eve vegereke çiqas dîrokî ye û çiqas şopeke mayin de mezin hiştiye herkes îro şahidê vê ye. Ji xwe eve hemû bi bihaya van nirxên mezin hatine bi dest xistin. Ya rastî ya di wir de winda kiriye dîroka qetliyam û êşkenca hezar sala ye, ya qezenc kiriye azadiye. Divê wate van şehîdên berxwedanê di vê astê de were  dayîn. Ji bo partiyê bijiyan bikin, rastiya gel ya azad bijiyan bikin, şerefa sosyalîzma ilmî hertim di jor de bihêlin, di vê derbarê de Rêbertiya Partiyê bê şert û qeyd, çi bibe bila bibe bi parêzin ev pêkanîne. Rastiya ku şehîdên me zindanê ji dîrokê re dane qezenc kirin ev e.
Rêbertî feraseta ku şehîdan bi berxwedaniya xwe dane avakirin weha şîrove dike:
Di nav me de jiyan û mirin di xeta şehîdan de yek bûye.
Di xeta şehîdan de ya ku ferqa di navbera jiyan û mirinê de daye winda kirin de, em dimeşin. Bi kinahî di nava me de di xeta şehîdan de, jiyan û mirin yek bûye an jî cudabûna wê winda bûye. Terzê xebata Rêbertî terzê xebata ku ferqa di navbera mirin û jiyanê ji holê rakiriye. Şehadetê PKK ê bi gengazî vê dide dextkirin. Terzê fikrandineke ku weke jiyaneke ji mirinê gelek ne dûre, lê di mirinê de jî jiyan winda nabe,  xelas nabe heye. Ev pir girîng e.
Ew mirovên ku dizanîbûn çawa jiyan bikin û kengî û li ku derê nemir bibin. Bi derewa çarenûs ticar bawer nekirin. Nîşandan çawa mirov bi xwe, jiyana xwe û mirina xwe bi destê xwe û bi vîna xwe ya azad diafirîne. Bi qasî pejirandina jiyaneke bi wate, mirineke bi wate jî helwesta mirovbûyînê ye. Wan bi wê helwesta xwe ji cîhanê re jî peyamek dihiştin. Şehadetên milîtanê Tevgera Azadiya gelê Kurd, bi çalakiyên xwe xeta jiyana ku divê were jiyan kirin, û jiyana ku hêjaye ji bo wê were feda kirin, Rêbertî weke feraseta jiyan û mirina bi wate datîne holê û dibêje:
Di siyasetê de, di leşkerbûnê de, di rêxistinê de, bi kinahî di her şêweyê xebatê de ferqa di navbera mirin û jiyanê de rakirin. Weke tu qet namirî jiyan kirin û her wextê weke tu bi mirinê re rûbirûyî jiyan kirin ger were esas girtin tê wata di xeta şehadeta de dijî. Ev xebat wisa dimeşin. Derveyî vê di xeteke din rêvebirin ne gengaz e. Li vê derê hêjî hin şêweyên terzê jiyana PKK ê ku devjê nayê berdan heye. Bêyî fêhmkirina wê, kesayeta îfleh nabe. Kesayeta we ji pergalê girtiye çiye? Jiyana we ji pergalê girtiye çiye? Ne tiştek e. Her wiha ger hûn dixwazin bi kesayeta xwe re mesafeyekê bidin avêtin yekkirina jiyan û mirinê di bûyera PKK ê de divê hûn pêkbînin û xeta jiyana ku mirinê mehkûm dike divê hûn bingeh bigrin. Hin pêwîstiyên vê hene. Bi qasî wan taybetmendiyên kevin, bêkêr, paşketî  û ajoyî berdan, tirsa jiyanê jî ne esas girtin, hilweşandina vê jî emir dike.
Rêbertî şehîdan weke dîroka nû ya gelê Kurd dinirxîne, dîrokeke zindî û afirîner, dîrokeke ku gereke baş were xwendin û were tê gihiştin, weha dibêje Rêberê Gelê Kurd:
Berê digotin kîtabî bûyîn. Me ji vê re got hêza ji fêhmkirinê re tê raber kirin û li gor vê bûyîna xwedî karekî, emelekî. Di bûyera Kurda de ya herî zêde divê were fêhmkirin, rastiya gelê bê kîtabe.
Di roja şehîdan de, di derbarê kesên  bi avakirina pirên ji agirê di bedenên xwede û xwe gîhandin berxwedaniya mezin de ya were gotin eve; ew li gor kîtabê bûn. Ji vir şûnde ya divê hûn bikin, çi bikin bikin xwe bighînin rastiya vê kîtabê.
Ji bo mirov PKK'ê nasbike divê jiyana şehîdan û kesayetên wan ên ku xwe kirin bedel di rêya vê dozê de binase. Bê ku li dû xwe binêrin û bê ku têkevin nava hesabên erzan û takakesî de. Naskirina PKK'ê di kesayeta milîtanên wekî Hakî Karer, Mazlûm Dogan, Kemal Pîr, Zekiye Alkan, Bêrîtan, Eşref, Necmî, Sema, Xeyrî, Zîlan û bi hezarên milîtanên wekî wan de têgihîştinekî herî rast e. Milîtanên ku bi evîneke mezin ramanên Rêbertî Abdulah Ocelan himêz kirin û ji bo parastina wê xwe kirin mertal li hemberî êrîşên neyarên azadiyê.
Ji penusa gerîla